NCASI Signs Wildlife Conservation Initiative MOU to Advance Collaborative Conservation of At-Risk Species Within Private Working Forests Nationwide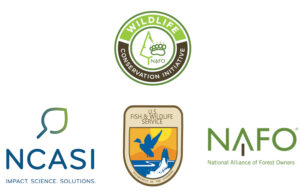 Date: March 21, 2023
NCASI, NAFO, & U.S. Fish and Wildlife Service Sign Agreement to Advance Collaborative Conservation of At-Risk Species Within Private Working Forests Nationwide
Media Contacts:
USFWS – Christina Meister, Christina_Mevog.swf@retsi
NCASI – Stacy Shelp, gro.isacn@plehss
NAFO – Ethan Breitling, gro.ecnaillaofan@gniltierbe
The U.S. Fish and Wildlife Service (The Service), National Alliance of Forest Owners (NAFO), and the National Council for Air and Stream Improvement, Inc. (NCASI), announced today a memorandum of understanding which formalizes the Wildlife Conservation Initiative (WCI), a collaborative partnership focused on advancing the conservation of at-risk and listed species within private working forests nationwide. The partnership was announced on the same day as President Biden's proclamation at the White House Conservation in Action Summit and features three shared principles: the crucial role of private forest owners in species conservation, the importance of utilizing better data for improved conservation outcomes and the significant conservation value of modern sustainable forest management. The WCI is built upon the shared belief that effective species conservation efforts can be achieved through open dialogue, identifying common goals and supporting productive voluntary collaboration among stakeholders.
"By signing this MOU, forest owners are joining NCASI and the U.S. Fish and Wildlife Service in making a long-term commitment to the sustainable management of private working forests as a wildlife conservation solution," said David Tenny, President and CEO of the National Alliance of Forest Owners. "As proud stewards of their land, private forest owners invest heavily in conservation efforts on their own. Our experience with the WCI has demonstrated that through proactive, voluntary participation and collaboration, we can leverage the insights, information and experience of private forest owners, conservation groups and the Service to achieve positive results for wildlife. We stand united with our Service partners, eager to continue our shared work to advance species conservation nationwide."
The WCI has ongoing species conservation projects in every Service region where NAFO members own or manage significant acres of working forests. The initiative makes more than 46 million acres of private working forests – an area larger than Washington State – available for collaborative species conservation initiatives. Through the open dialogue of the WCI, private forest owners and the Service are working together to determine the presence of species on private forest lands, the status of forest conditions and the impacts of active forest management on wildlife and their habitats.
"This Memorandum of Understanding with NAFO and the U.S. Fish and Wildlife Service is a testament to the power of collaboration in conservation. By coordinating our resources and expertise, we can make a real and meaningful impact on the conservation of our nation's most at-risk wildlife. We are pleased to be a part of this partnership and look forward to the groundbreaking research that will come from it," said Dirk Krouskop, President of NCASI.
As part of the ongoing work of the WCI, private forest owners provide much-needed access to forest habitat for researchers to conduct on-the-ground studies about forest-dependent species. This work provides more robust data, which helps forest owners and agencies alike make better decisions about managing and protecting wildlife habitats. The Service, through the work of the agency's Science Applications program, supports 10 WCI field research projects nationwide that are producing information needed to proactively conserve at-risk species and their habitats, including pollinators, turtles, mussels, songbirds and more. The WCI's proactive and collaborative approach to conservation is being recognized as a promising non-regulatory method for conserving species for future generations.
Today's announcement is a watershed moment for species conservation. As the USFWS marks the 50th anniversary of the passage of the Endangered Species Act, it is clear that voluntary, collaborative conservation efforts make the law work better for at-risk species, landowners, and the USFWS.
For more information about the WCI, please visit www.nafoalliance.org/WCI.